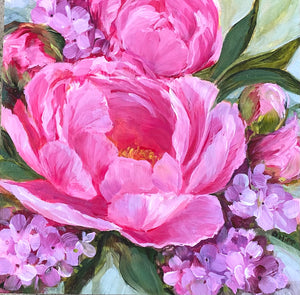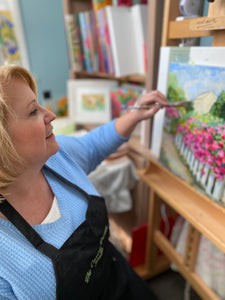 Hello there! I'm so glad you're here!
Welcome to my shop. I'm Debbie Hipp, artist and owner of The Canvas Garden Studio. Inside you will find my original floral paintings on canvas and paper.  Why only flowers?  Well, I absolutely love them. They make people feel happy, are given in love and friendship, come in all shapes, sizes, colors and fragrances, and they make our living space feel more calm and beautiful.  These painted canvases have become a colorful cultivated garden to perhaps brighten someone's day.  I hope you enjoy looking around and love what you see.
Vibrant Hues Process
When painting with acrylics, I add multiple layers of colors, starting with the transparent hues and carefully paint over with the opaque colors, allowing the translucent underlayer to shine through. This process creates the most luminous colored paintings that I just love so much.
Floral painting tutorials
Do who want to paint more vibrantly colored acrylic floral paintings? In these downloadable tutorials, you'll learn step by step how to prepare your canvas, how to paint in layers of translucent to opaque hues, and how to create more expressive brushstrokes to achieve more dynamic works of art. Each lesson comes with references which include, tracables, photos, and a supply list. Each tutorial is appropriate for the intermediate to advanced acrylic painter.
Painting Tutorials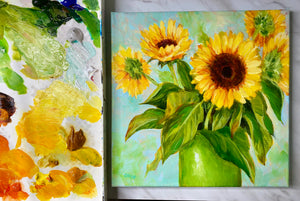 Free Tutorials on my YouTube Channel
---