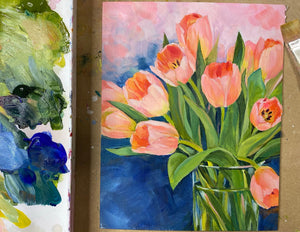 Tutorials
---
Do you want to learn how to paint more vibrant florals in acrylics? 

Do you love the brilliant color of acrylics but find they dry out too quick, that blending is difficult, sometimes color mixtures become muddy, and tonal values are a struggle?

Through research and practice, I've discovered some easy techniques and tools that help me create my brilliantly colored floral paintings and will happily share these with you in these tutorials. In each lesson, you will receive step by step instructions detailing how to achieve vivid colors, expressive compositions and other techniques to paint with more confidence and joy. The lessons are suitable from the beginner stage to the advanced painter.
Once purchased, a complete supply and color list will be delivered to your inbox along with a private video link.  (supplies not included)
After you've completed the lesson, you'll be able to gift yourself or others with a beautiful floral painting, learn the secrets to brilliant color mixtures and build upon your own creative art journey! 
Thanks and happy painting!  Oh and I'd love to hear from you on your success!